2021-05-25
It's possible that a new small firm won't have many expenses to keep track of. However, when your business expands, so will your expenses. You'll need to keep track of your expenses using an expense report form.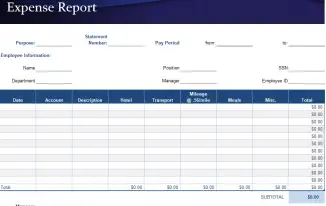 An expense reporting will help ensure that you are ready for tax season. A variety of charges can reduce the total amount owed.
Select a Template
You can use a template or expense-tracking software to create an expense report. It can take a long time to create an expense report from the start. You'll need to download a template to make an expense report in Excel, Word, PDF or other common programs. Add your company name, the date range you're reporting on, and your name to the template. Upgrade to expense-tracking software to save time as your business (and amount of expenses) expands. Connect your business bank account so that expenses are automatically recorded. Alternatively, you can use the app to capture paper receipts as you receive them.
Change the Columns
Standard columns in expenditure reports can be used to customize your expense report template if necessary. The columns are as follows:
Purchase date: when the item was purchased
Vendor: the store where the item was purchased
Client: Who was the item purchased for?
Project: What was the item purchased for?
Account: a name for a client or a project.
Author: the person who purchased the item
Notes: make notes to explain the cost.
Amount: the expense's cost
Your columns should reflect typical